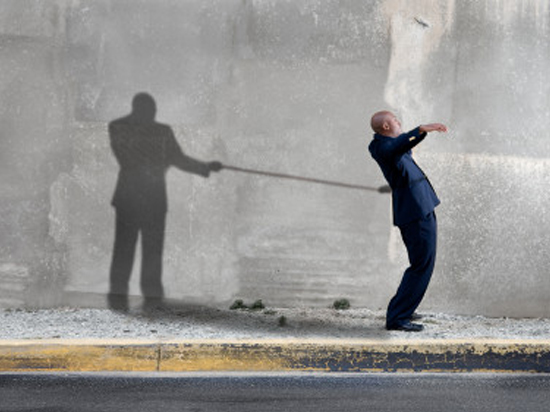 "Are you coming in the way of your own flow? Have you become your shadow? How effective are you in your role for tomorrow? Are you able to get the best of you in times of tough realities? How are you disrupting yourself? How relevant are you for the future?". If you are not constantly asking these questions & working on them on a consistent basis by building in regular practices with a brutal priority day in & out, I am afraid to say that that you may become obsolete very soon.
(Do not miss to do your self-assessment of the 15 questions asked at the end of this article please)
Many of us may not even think of these questions in our day to day lives, as the demands of 'here and now' take precedence. Often what comes in way of the leaders in their journey to remaining relevant is their blind spot about their current state of skills. In many cases, this assessment is even converse to the reality, what is referred as the Dunning-Kruger effect. This was an output of a series of studies by social psychologist David Dunning and Justin Kruger run to investigate the discrepancy between people's self-belief and their actual abilities. The studies were undertaken after an incident where a person of a sound mind tried to rob a Bank by putting lemon juice on his face. The man had read that lemon juice can be used as invisible ink and becomes visible only when exposed to heat.
He had the idea to cover his whole face in lemon juice so security cameras at the bank will not be able to see him. So confident he was of his approach that he robbed not only one bank but two. Of course, it didn't work out and he was caught within hours and jailed. The psychological evaluation of the man found him to be of sound mind. He was just a man who had overestimated his ability to understand science, in other words, he was just like any of us. The results of the studies showed that the less competent someone was in a particular area the more likely they were to rate their performance highly in that area. This is because it takes exactly the same skill to be good at something as it does to understand how good you are at that particular thing. Imagine the impact of this effect on the organisation culture!
This constant accurate self-assessment of our abilities as Leaders to stay relevant would not be needed if only we had a clear set of keys to effective organisational Leadership in changing times – a "decoder ring" as McKinsey calls it to understand which practices translate into great leaders of tomorrow and which parameters are important to stay relevant.
We all know that the world we live in is changing at a rapid pace, Digital disruption has become the norm, leveraging technology for transactional and transformational processes is the preferred means for transacting business and the immediate work-environment will sooner comprise of the 'extended workforce' who are a minority in today's world.
As organisations evolve as be with any, one has to constantly assess if you are doing all that you can to innovate and serve our stakeholders including the end customers seamlessly. The focus has to be shifted from Process/Operations Excellence to Customer Experience, thinking like the customer, predicting their needs and eventually providing them with a hook has to be emerged as your Partner Value Proposition.
Leaders of the future will be faced with taking decisions in an interconnected world of complex global networks that engage in novel ways of co-evolution and co-creation. The context for Leadership is changing dramatically instilling tremendous pressure on traditional models of Management. The paradigm of Leadership will therefore need to evolve and Leadership curiosity along with Learning Agility will emerge as the top competencies of the future.
Our existing models around "Leadership" centre around the principle of the Leader being the Hero. These possibly were the early inspirations for Leadership in corporate's with the CEOs marshaling employees and the larger workforce towards larger organisational goals combating competitors, the state of the economy and the larger macro environment.
In one of the Forbes articles of Steve Andriole (professor of business technology in the Villanova school of business), beautifully states that "Specialization in a converging world is misguided and that vertical management with Multiple dysfunctional enterprise chiefdom's and chief executives will cease to exist". Leadership is not only taking charge of the reins of the chariot taking you forward but also directing the chariot towards the future you want to co-create. The fundamental challenge of Leadership is the fact that in a future where 'specialization' and 'equality' would become the buzzwords- the idea of an effective Leader would need to be contextualized to remain relevant.
It is indeed difficult and elusive especially in large corporations which must orchestrate global businesses with diverse workforce and thousands of players in the supply chain.
For a future where homogeneity in taste and heterogeneity in offering are a reality, Leadership versatility through remaining future relevant will remain a key attribute. Leadership relevance when unbundled as competencies and behaviors will comprise of the following parameters:
Mindset: Despite the hue and cry around radical collaboration and transcending cross functional boundaries, Organizations and their leaders are still grappling to get it right. In one of the Organizational Leadership Conferences, I heard Ravi Gururaj (member of NASSCOM's executive council & Product Council) mention that "Innovation Leaders are challenged by Culture, Budgets and the Frozen Middle". The traditional mechanistic, hierarchical management paradigm with a culture of anticipatory obedience and unilateral top-down processes and one-way communication will be dysfunctional and the leaders of future will need to introduce significant mindset shifts, suspend one's frame of wisdom and overcome the "permafrost" or "antibodies" that be resistant to change.
Horizontal Leadership: In a world of constant flux where organisations have realized the need to shape highly creative, agile and flexible organisations to serve end customer outcomes while being a part of their business growth. Leaders need to push responsibilities "down and out" to the periphery to people who are specialized and well-tuned to the market responsibilities. While still staying invested, one needs to enthuse and empower every employee while successfully acting on the logic of network relationships. This requires one to display horizontal Leadership where boundary less dialogues, collaboration and co creation amongst internal and external stakeholders is a must.
Risk taking appetite: Consider an example from Amazon, one of the companies which is scaling up the value chain. Jeff Bezos, Amazons founder and CEO has said that if his leaders and people have one in a 10 chance of making a 100-x return on an investment, he wants them to make that bet every time. As important it is for organisations to develop that culture of celebrating failures, it is equally important for leaders to get out of their narrow swim lanes and stick their neck out to try something new even if there isn't any upside to doing so.
Leveraging Social Technologies: The surge of social technologies is giving the necessary thrust for making organisations ambition of agility and flexibility a reality however what stays unanswered is the link between Leadership practices and the emerging role of participatory media and the leaders are grappling to take cognizance of the skill sets required to leverage these platforms. I once read in one of the Leadership articles published by Wharton regarding "Social Orchestration: Understanding how messages travel in a social media universe and the requirement of leaders to abandon their traditional linear thinking in favor of letting go and embracing the logic of self-organisation networks". Vertical and distributed channels of Leadership communication will need to be replaced by social media Leadership where engagement and participation is driven by shared principles and not unilateral rules". Leaders will also need to adopt a more authentic approach to online image management and show flexibility and versatility in styles to meet the follower's demand. Leadership in this context diversifies where "micro influence" grows in significance. Leaders will need to isolate the highly specific niche within which they can lead and build a community with specific interest.
Self-Awareness: I recollect an article I read where Robert Keegan once mentioned "The agenda you're driving is the business part of it. The agenda that's driving you is the psychology part". It is a must for leaders to be aware of their blind spots and take stock of emotions that drive them at work. Leaders will need to adjust potential psychological pressures associated at work and prioritize mental health while exhibiting extensive emotional control and mental optimization. As the pressure continues to mount, the balancing act between task and emotions will be priority of future leaders. The ability and appetite for a leader to take constructive feedback and flex their change muscles will stay key.
Talent Value Proposition: Future leaders need to operate with urgency around future proofing their business. With the shifts in working patterns, evolving customer needs and rapid technology developments, many organisations are stating that the lack of Leadership skills is affecting the ability to achieve goals. Creating a breeding ground for scalable talent, by building an attractive work atmosphere that brings in great talent will be one of the areas a leader will need to proactively scale. Creating a compelling talent value proposition therefore will become important. An integral part of achieving this is through creating compelling personal brands, and Leaders of the future will need to invest in building capabilities beyond technical competence to attract talent. Given increasing specialization and lack of transactional roles, subject matter expertise alone will no longer remain an area of competitive advantage. Building care as a competence by caring about people, their progress, their careers and performance will be an integral aspect of creating a compelling talent value proposition which transcends sectors, industries and positively impacts the aggregate organisational brand.
Intrapreneurial spirit: We are already seeing a culture of Intrapreneurialism flourish within organisation. Leaders of future must evolve and sharpen their skills around working in a startup ecosystem with the millennial workforce of today. I once heard the CEO of Nestle mention "We're a 105-year-old, with a heart of a millennial". With the future of workforce being creative and independent, the workforce of tomorrow will evaluate their Leadership in a strictly nontraditional sense. Leaders will need to jump boundaries of structural Leadership and will need to evolve to manage a more creative and independent workforce. Creating in-house intrapreneurs will become a strategic KPA for Future Leaders – to promote newer ways of operating and thinking. While entrepreneurship is traditionally restricted to 'start-ups', the term will scale up to include exploring unexplored contours, managing risk and returns effectively and offering a compelling product/ service which addresses a need of the customer. Employees within corporates will move from being 'resources' managing critical portfolio to intrapreneurs responsible for managing different aspects of an integrated product value chain. Establishing this as a value, integrating diverse perspectives of a workforce used to operating in hierarchies and aligning them to agile ways of working will be a key Leadership competence for the future. At this point I would also like to clarify that normative qualities, such as offering a critical perspective and demonstrating a concern for people, will always be part of what it takes to be a leader. But the importance of other elements, such as keeping diverse groups on task and bringing out the best in others will be what it takes to stay relevant in the context of today and tomorrow.
While going through the above narrative, one may wonder where am I in the conundrum of Leadership Relevance, maybe the introspection on the below ten questions could help formulate a response:
In the last three months, how many days have you spent with your teams on Business improvements rather than process improvements for the Customer, given digitization/automation and agile ways of working. Are you changing your own operating model?
On how many instances in the last 1 year have you worked in a self-managed, loosely coupled work groups? Do you have a startup DNA in you?
In the last 1 year, how many customers have you personally met to proactively strengthen relationship and drive additional business by personally addressing & resolving their pains?
How many eminent networking forums/ Industry innovation consortiums are you an active member of? How do your peers view your value addition?
How many Agile projects have you conceptualized and implemented in the last 1 year where you had to engage in blue sky thinking and solved critical business problems? Do you have a Product mindset?
How many freshers were you able to mentor in the last one year? What's your Talent intimacy score?
In the last 1 year, how often have you presented/ participated in an academic institution or campus? Are you enriching your learning by sharing?
How many of your colleagues/ ex-colleagues have reached out to you for career advice in the last six months? Are you able to co hold task & people in your Leadership style? How often do you have development discussions with your team members or do they see you only as a task master?
In last 1 year how many analytical/ digital solutions have you implemented?
Is story telling a key aspect of your Leadership style? if yes, how many forums do you use in publicizing the same? What's your brand image?
Do you understand the PIE? Performance, Image & Exposure. How are you building your own Image? How do you expose yourself in front of the Right Leaders who matter to you in your career?
How do you define and execute healthy discomfort in your Life? Are you losing your agility to jump as the frog in the boiling water?
How well are you utilizing your competencies? Are you only working on your current muscles or do you develop your new muscles too?
What's the pace of your self-learning? How many hours have you spent on Coursera, Udacity & Udemy? Or have you only registered?
How is your body helping you with these? Are you working on Cognitive, Emotional aspects & your Body simultaneously thus ensuring an Integral development?
Co-authored with Zainab Electricwala